Saturday, January 24th, 2015 (one week from today!) is National "Visit Your Local Quilt Shop Day"!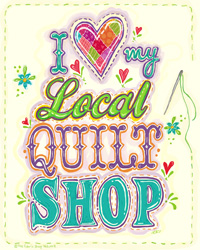 We always love seeing your beautiful face in our store. We have the best customers in the world! Because of that, we'd like to offer the chance for one of you to win a $75.00 gift certificate to Aunt Judy's Attic, just by coming in the store that day!

Here's how this works:
1. Come in the store.
2. Either take a selfie (a photo of yourself) or have someone in the store take a photo of you.
3. Submit the photo to Aunt Judy's Attic in any of the following ways (you only get one entry per person, no matter how many times you post the photo):
a.
Email
the photo to us.
c. Post the photo to your own Facebook page, but be sure tag Aunt Judy's Attic the caption (you can do this by typing an @ symbol before typing our page name). You can also add the #auntjudysattic to the caption of the photo.
d. Send it to us in a facebook message through our Facebook page.
e. If a store worker takes your photo with their phone, camera, or device, that can be your submission.

If you have any questions about how to enter the drawing, just ask us! We'll be happy to help you out!

Visit Your Local Quilt Shop Day falls on the 2nd day of our Charity Quilt Work Day event. Come in and help sew the Quilts for Cops, have a chance to visit with some fabulous ladies, and enter the "selfie" drawing!